I finished before 11:00 the night before!  That's some sort of record for me and I was actually able to stay awake in church this time (no reflection on our pastors usual oratory skills!).   I snapped this Simplicity 3515 pattern up at Joann's because they were having a 99 cent special on patterns and I just couldn't pass up an opportunity to add to my collection.  If they had a show called Pattern Hoarders we would all be famous wouldn't we?!
I'm surprised at how much I like the Disney girl patterns.  From Hillary Duff, to That's So Raven, to Hannah Montana, they are always so cute and age appropriate.  Now if Miley Cyrus would just stick to clothes like this I'd be happy (someone put a sweater on that child please!).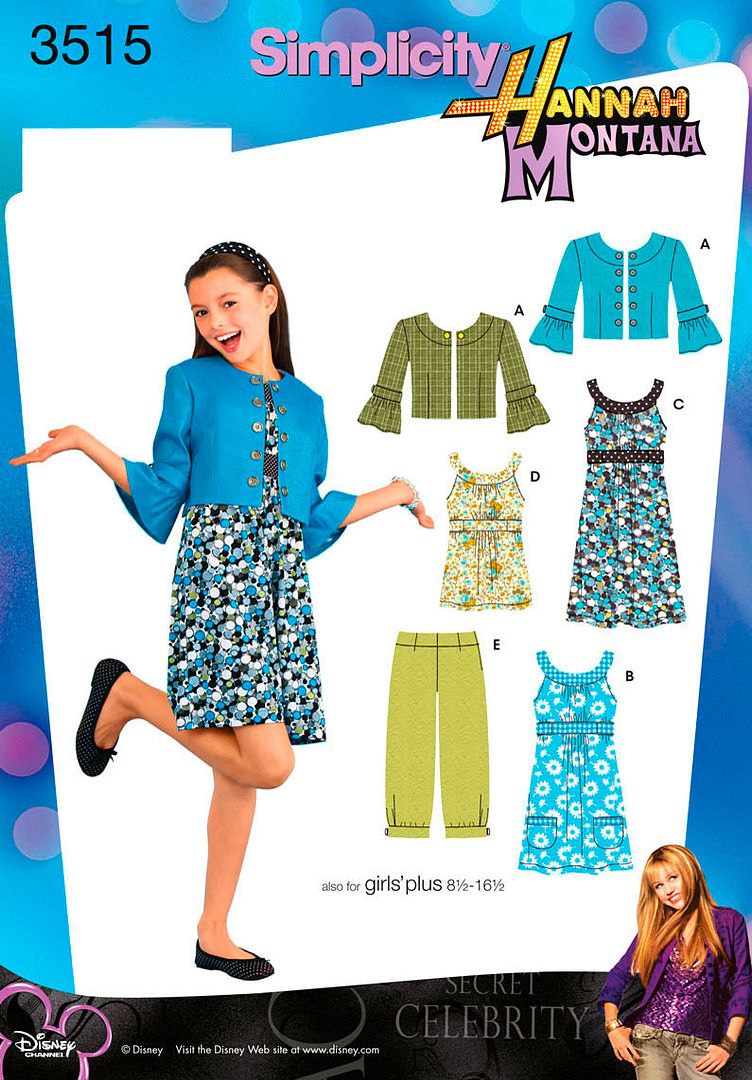 I let Sofia chose her fabrics and was actually pleasantly surprised that she picked such a feminine print.  I have a hard time getting her to wear dresses but she sort of knew she didn't have a choice about that on Easter.  I thought I was over the whole pink/brown color scheme but I'm really loving it in this dress.  It's from Tanya Whelan's Dolce collection and I've fallen in love with it all over again.  Oh, and I added 3 inches to the length since Sofia likes her dresses beneath the knees.
I picked through my drawer of homemade bias tape (I have quite a collection since I started using this method) and found this cute dotted print for the arm holes.  I think it adds a bit of spunk to the dress.  The dress came together pretty quickly and the fit was good except for a little bit of gapping at the sides.  I just made a quick dart in each side and problem fixed!  I think this is definitely a good project for beginning sewists.
Her brother wanted in on the picture taking action and really, he's the one that needs a big paddle to his backside after what he did to his hair.  I had just cut it and left enough for some cute little spikes or a tiny swirl on his forehead.  So much for that idea.
Oh, go look at Cassie's crochet tutorial!!  I'm going to have to learn this because I can't stop looking at these beautiful pillowcases!  Oh and run over to this new Quilting Bee Blocks (link now fixed!) blog and join a quilting bee (prizes all week too!). 
Have a wonderful week!!