We are busy getting back into the swing of things here and it's just about killing me. I know some people thrive on schedules. They love and hug and kiss their beloved schedules. I resent having to be scheduled but I think it may be an evil necessity in order to avoid a Lord of the Flies scenario around here. So onward and upward, etc., etc, yada, yada....
 I finally got my Apron in an Hour tutorial and Perfect Pillowcase tutorial (I'm not sure why I named it the "Perfect" Pillowcase but I guess it's easier to remember than the Pillowcase That Anyone Can Sew Even If You Have No Idea What You're Doing tutorial) in pdf format. Well actually Joey put it in pdf format but if he wants to get credit for it he needs to get his own blog. So if you want to download the apron, go here and if you want the pillowcase, go here. We tried to scrunch them down so they don't take too many pages.  Fun!
Here's the Robots pillowcase I made for Skate and he just loves it (his old one was plain navy blue so this is a vast improvement).  The only problem is he now thinks all of this fabric is his and he tries to take the whole bolt if I'm not looking.  I love this fabric, it's so happy.

Here's something cute and thrifty that Peety made. She got the fabric at Savers (our favorite thrift store) and it's a really nice gold velveteen. The embroidery patterns are from the Sublime Stitching Book. I love that book even though I never get to use it (my girls have taken it over but that's okay). 
Okay, I need some help here.  I want to order another Spring line from Moda but I'm not sure which one to choose. I'm trying to decide between the new Mary Engelbreit line and the Wonderland line. Here's a peek at the Mary Engelbreit line: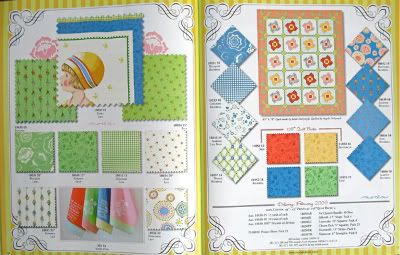 And here's a peek at the Wonderland line: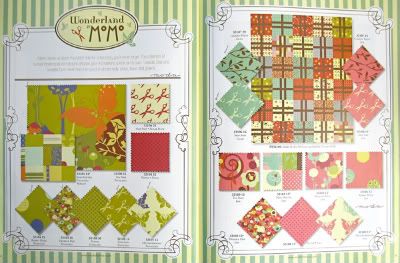 Let me know what you think.  You can get better looks here and here.
And I've been keeping a secret for a few weeks.  I've been asked by the editor of Sew Simple Magazine (my favorite sewing magazine!) to write up an article/project for an upcoming issue and I'm still pinching myself.  And it's a paying gig!  I have to keep it under wraps for awhile but I'll release a few details as it gets closer.  In the meantime I'm scrambling to get it done (I have a week to finish) but I'll try not to disappear.  Keep on sewing!