Well today is my dad's 70th birthday.  I want to introduce you to my dad because he is seriously the coolest guy ever.  His name is John Ford (I'm named after him) and he was born in a shack in the Ozarks and is the middle child of 5 (the 5 that survived childhood, that is).  He could write a book about his childhood but it would read like Angela's Ashes.  He contracted polio as a boy and underwent the treatment devised by Elizabeth Kenny who had recently brought her methods to America (little history lesson there for you).  It's a miracle he was able to walk away from polio (and I think it helped turn him into the kick-ass guy he became).

His family picked up and moved to Portland when he was still a child.  He started high school, but never completed his freshman year.  He moved out of the house and was taken in and mentored by a man who changed his life and got him a job driving a delivery truck.  He found out later that he was delivering to the local brothels!  On his 17th birthday (53 years ago today) he joined the Navy and begin traveling the world.  When he was 19 he and his best buddy Larry decided it would be fun stuff to jump off the Sellwood Bridge (Sailors + Beer = "Hey, wouldn't it be fun to jump off of one of the tallest bridges in Portland?").  Larry lost his front teeth in the plunge but my dad came through intact (okay, my dad just corrected me and now claims he jumped in to save Larry).  Last week he and Larry went sky-diving (and I'm sure they got in a bar fight on the way home but they're not talking).  These guys got a bucket list a mile long.
Here's my dad with his "God, I loved that car" Astin Martin (the coolness was just beginning).  (Okay, I've been corrected.  It's an Austin Heeley not an Astin Martin.  Like I'm supposed to know that.) ;)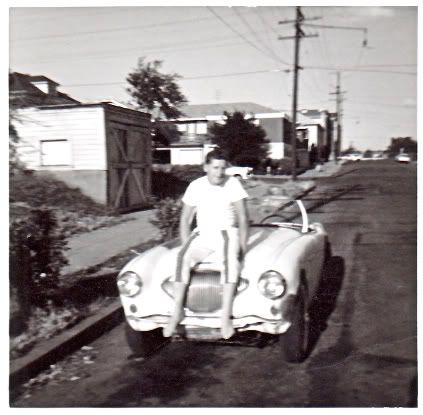 As soon as he got out of the Navy he stole Larry's girlfriend (well, that's the way Larry tells it but my mom says otherwise), married her and proceeded to produce 3 daughters in 4 years.
Here they are with the cute daughter: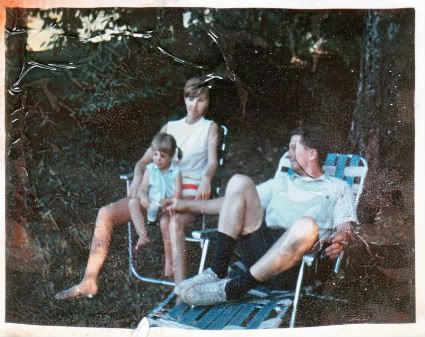 Around this time he decided it would be really cool to take up competitive speed skiing (the water kind, not snow) and that kept him pretty happy for awhile until a cool new sport showed up on the horizon.
He became the first man to hang glide in Oregon and in the Spring of 1973 he flew his hang glider right over the top of the newly opened Fremont Bridge (much taller than the Sellwood).  Here he is at the Oregon coast.  We spent a lot of time here getting sand in our underpants.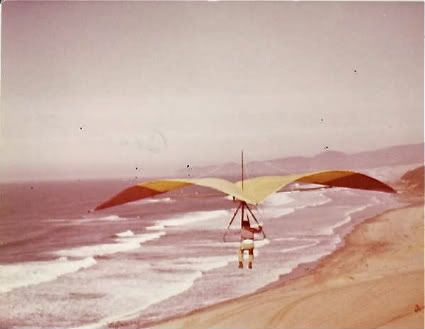 In 1974 he went to Alaska to work as a foreman on the Alaska Pipeline for a year. It was a long year for our family but it moved us from public assistance up to the middle class (insert Theme from The Jeffersons here).  When he returned we bought a 28 foot motor home and spent the summer of '75 traveling the U S of A.  We hit 36 states (Oregon to Florida to Maine and everywhere in between) and 5 hang gliding tournaments.  We stopped at every roadside marker in the country and saw every oddity there is to see.  Worlds biggest ball of twine?  Seen it.  Cadillac Ranch?  Been there.  Lincoln's outhouse?  Yup.
My dad slowed down a bit in his 40's.  He'd had a couple of leg breaks while hang gliding (well multiple breaks on two occasions) and I think he decided to stay in the boat after that.  He got his pilots license and bought partnership in a little Cessna and that seemed to keep him happy.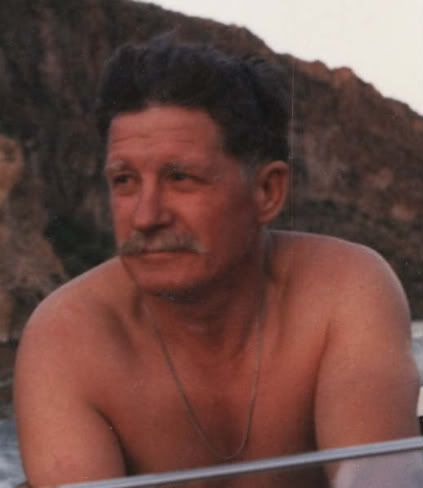 My dad has obviously played hard his whole life but he has worked even harder.  He had started his own plumbing business in the 70's and moved to Arizona with it (and my mom!).  I honestly don't know anyone who has worked as hard as my dad works and my parents enjoy a darn good life because of it (my mom worked as a nurse for nearly 40 years so he had help!).  He showed all of us girls how to work hard and have a "seize the day" outlook.  I think us girls all suffer from a bit of over-confidence, but that's what happens when you spend your life being told you're the "smartest and prettiest girls in town and don't you feel sorry for all the other girls?".  And now all the granddaughters get the speech so they're developing big heads too.
But I really think the best thing he taught us was gratitude.  What a beautiful gift gratitude is.  My dad had a super crappy childhood but he didn't let that baggage stop him from doing great things and if you ask him, he will tell you that he is the luckiest guy in town.  He's right!
Happy Birthday Daddy! 
From one of the 3 luckiest girls in town (and don't I feel sorry for all the other girls?  Yes!)!